oh-oh Canada
2016 ongoing

Leah Decter, with Adrian Stimson, Cecily Nicolson, Lisa Myers, Peter Morin, Cheryl L'Hirondelle, David Garneau, Michael Farnan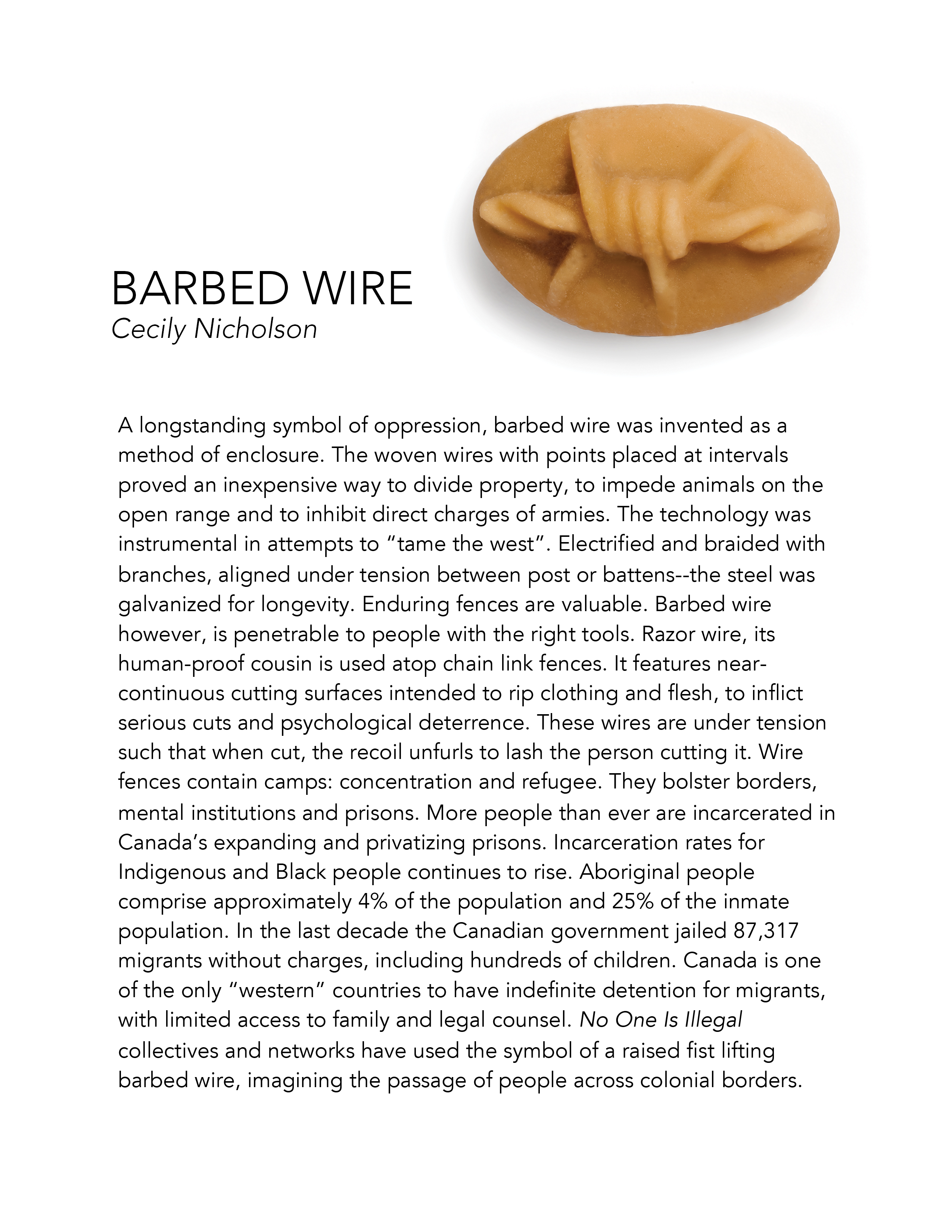 oh-oh Canada

oh-oh Canada is a hybrin curatorial/collablrative project that injects new meaning into commonplace, iconic national symbols and narratives as a way of re-storying the histories and mythologies that continue to shape what it means to be "Canadian." In it, I brought together eight Indigenous and non-Indigenous artists[1] to design an "unsettled" set of maple sugar candies to be given away at to the public through a variety of means. Maple syrup is a prominent Canadian symbol that, under a veneer of national pride, reinforces colonial narratives of settler belonging, in part through associations with Indigenous knowledges and the bounties of the land. The maple sugar candy product that is counter-appropriated inoh-oh Canada is a mainstay of airports and tourist shops, and is most commonly produced in the form of a maple leaf. In this way it enfolds icon into icon reiterating colonially based versions of 'Canadian-ness.'

The oh-oh Canadacandies challenge the tropes embedded in maple syrup products and the image of the maple leaf. They are designed and packaged to echo those commonly found in commercial outlets. However, rather than taking the form of the maple leaf, the oh-oh Canada candies represent narratives that intervene in settler colonial assumptions and erasures. Each participating artist conceived and designed one candy conveying a story missing from, or misrepresented within, the nation's "preferred memory"[2] and the resulting historical record. At first sight they may 'pass' as tourist fare but, upon further inspection their counter-stories begin to be revealed. A catalogue inside the box provides context including a 'key' to the candies, text elaborating on the project as a whole, and individual artist statements that provide further information regarding the "story" each candy tells. The project was launched in Ottawa on Canada Day 2016 where 300 boxes were given away to the public in front of Parliament Hill. The candies continue to be dispersed through similar public performance interventions and gallery exhibitions.

Through the integration of the texts, objects and encounters, oh-oh Canada aims to articulate connections between historical narratives and present conditions, and shine a light on important stories that are not commonly highlighted in mainstream contexts. Inserting the candies' unsettled counter-narratives into mainstream celebratory public spaces, private spaces, and the body itself, oh-oh Canada interferes with the everyday stories, habits and assumptions that reassert colonial thinking.


---

[1] Adrian Stimson (Siksika-Blackfoot), Cecily Nicolson (mixed Black diaspora), Lisa Myers (Anishinaabe), Peter Morin (Tahltan), Cheryl L'Hirondelle (Cree/Métis), David Garneau (Métis), Michael Farnan (1st generation Canadian) and myself (Jewish/settler Canadian)
[2] Lehrer, Erica, and Cynthia E Milton. "Introduction: Witnesses to witnessing." Curating difficult knowledge, edited by Erica Lehrer, Cynthia E. Milton, and Monica Eileen Patterson, Palgrave Macmillan, 2011. 3


Further info

link to: oh-oh canada website
link to: "Oh-oh Canada: Sweet treats for unsettling futures" in Canadian Theatre Review


Acknowledgements

This project was made possible through the generous financial support of: 'Creative Conciliations' SHHRC Insight Development Grant, Kimberley Wilde, Keavy Martin, Peter Kulchyski, Dylan Robinson, Queen's University Cultural Studies Research-Creation Fund, Corridor Culture and Gallery 101

Catalogue: graphic design, Trina Bolam; photos, Graham Iddon
Candy production for project launch: Paul's Maple Products

︎ ︎